DOWHILE.CITY


DOWHILE.CITY is an interactive, multimedia database that showcases the projects of over sixty artists who have been involved with Do While Studio, including "From The Storm: Artists with Temporal Lobe Epilepsy (TLE)." Do While will increase the number of participants as the project moves from the physical constraints of the Studio to a global audience on the World Wide Web. The project serves a dual purpose: to archive the events, shows, members' work, and media coverage of Do While Studio; and to be a "living document" of art, design, and interface developments of present and future participants.

DOWHILE.CITY contains over 10 gigabytes of multimedia projects including Do While newsletters, programs, events and an interactive directory of the works of interns, members, and artists in residence. Included are Jeffrey Ventrella's character animations created with genetic algorithms; Sara Alfaro-Franco's stereoscopic fly-throughs; Joan Shafran's animated poetry, Jennifer Hall's computer-controlled marionettes and EEG-directed animations; and excerpts from Laura Knott's dances "Aqua Echo" and "Risk and Relaxation."
In order to unify the diversity of concepts and techniques found within DOWHILE.CITY, we engineered a graphical head-end to assist viewer participation. Under the direction of Jennifer Hall, Ruth Tannert (a former graduate intern) created a spatial metaphor- a three-dimensional matrix on a Silicon Graphics Indigo (SGI) computer-to facilitate travel through Do While's past/present. Users experience a sense of placement within a geometric landscape enabling them to view the whole cityscape through translucent scrims as opposed to a "flat" screen. This content-based, non-linear database responds in real-time as the viewer moves through its recessing interface. The design is innovative, educational and user-friendly.
Achievements: The DOWHILE.CITY project represents two years of research, planning, and execution of ideas which have culminated in a unique software package for the advancement of technology assisted art worldwide. It has traveled - physically - throughout the world. In Denver, Colorado at the Computer Interface Conference (CHI 95), DOWHILE.CITY was hailed as one of the most innovative interfaces of the year.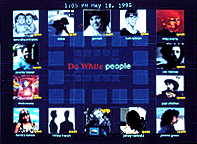 Community Access: Do While Studio offers access to machines which are usually only available to members of academic institutions and expensive production houses. DOWHILE.CITY serves local communities while serving a virtually limitless global community. Many of those who cannot yet download the project from the World Wide Web will be able to see the project within a physical location - conferences, colleges, community centers, sacred-sites etc., as DOWHILE.CITY continues to tour the globe.

Viewing of DOWHILE.CITY is available to Do While Members. To learn more about this project, or to schedule an appointment please contact the Director at: jenhall@massart.edu