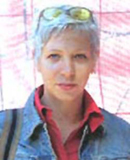 Petra Gemeinboeck is an architect and media artist, currently based in Sydney, Australia, where she is an Assistant Professor of Digital Media at the University of Sydney. Her artistic practice and theoretical research bring together the fields of architecture, computer science, media art and visual culture. In her works Petra creates scenarios of encounter in which spatial boundaries of the physical, the virtual, the social and the subjective become perforated and hybridized.
Her interactive installations and virtual environments have been exhibited internationally at venues such as Archilab 2004, Orléans, France, the Ars Electronica Center, Linz, Austria, the Museum of Contemporary Art Chicago, USA, and the InterCommunication Center, Tokyo, Japan and have been featured in magazines such as ARCHIS and Computer Graphics World. Petra has published widely on the interrelations of physical and virtual spaces and issues of embodied negotiation in virtual environments.
Petra's doctoral thesis 'Negotiating the Virtual: Inhabiting Architectures of Emergence and Remoteness,' completed at the Vienna University of Technology, Austria, is concerned with the conditions of a virtual reality, in which the virtual does not simulate another reality, but unfolds its own reality in the relationship with the temporary inhabitant. She received her Master of Fine Arts at the Electronic Visualization Laboratory, University of Illinois at Chicago, IL, USA and also has a master's degree in architecture from the University of Stuttgart, Germany.
Petra Gemeinboeck

Awarded Summer 2005 Residency


New Media Artist and Architect
petra@arch.usyd.edu.au


Impossible Geographies 01: Memory
<Impossible Geographies>, a collaboration with Mary Agnes Krell, presents a series of interactive and generative urban interventions: 01 <Memory>, selected for the Do While Residency is an installation whose sensorial extensions become the fluid virtual boundaries of a memory space. 02 <Urban Fictions> , currently in progress, creates a series of networked incidents, embedded into the urban fabric.
Both, the memory geography and the network of 'urban chinese whispers,' build on the conceptual ground of <Maya-Veil of Illusion>, a tele-immersive installation, spanning a fluid passage of intereference between two remote sites.
The boundaries between the physical and the virtual in these artworks constitute along the participant's body, through a spatio-temporal leakage or in the multitude of unstable and conflicting urban geographies. And yet each of them is concerned with the inhabitation of a pierced reality in which the physical and virtual are inseparably intertwined.